Explore Sedona
We spent two days exploring beautiful Sedona, AZ.
Sunrise
Our room had great views of the surrounding red rocks, but not good enough for the sunrise photographer. The original plan was to wake up in time to catch the 5:20am sunrise. I was actually up and ready to take pictures from the patio of our room by 5:15, but it was already pretty bright outside. The sun hadn't quite broken over the rock formations, but the sky was bright blue. Phil was extremely captivated by the sunlight's effect on the terrain and the airport provided a beautiful, unobstructed view. We left for the airport around 6:00 a.m. … the time is a little fuzzy since I was sleep walking. Nancy wasn't awake enough to disagree when I suggested we go out to the airport for better views of the breaking sun.
I slightly remember sitting on the taxi way asphalt and watching some type of lizard or bug (it's hard to tell with just one eye half open) creep slowly away from our plane. I was glad it didn't come our direction since that would require movement on my part. It was quite warm for early morning, but the view was stunning. Phil was busy clicking away. Trying different angles and frequent shots to digitally capture the view we had only read about before today. He almost filled his camera's memory to capacity, but saved a little room to catch the Mooney in the morning glow. Some of the good pictures are at the bottom of yesterday's page, and there's another one below.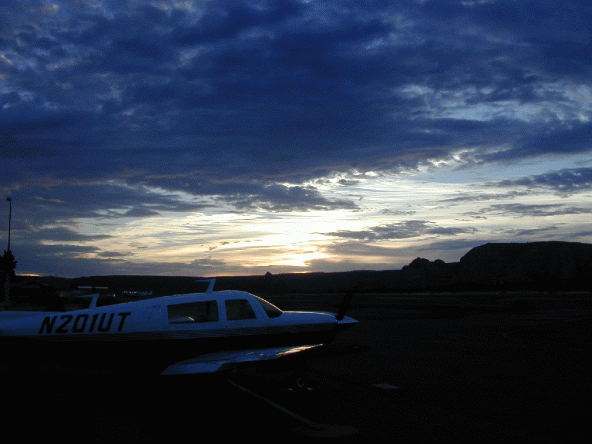 Shopping
After taking a bunch of pictures, we went back to the room to take a long nap. Since I drug Nancy around to take pictures, she got to drag me around to do some shopping. Sedona has a large artist community, with tons of galleries to browse. We went through lots of shops and ended up actually buying a piece made out of the local rock.
What's next?
We had a pretty lazy afternoon and decided that we wanted to try to really see the sunrise tomorrow. Nancy picked up a brochure for one of the hot air balloon companies in town. The plan for the next morning became a sunrise hot air balloon flight. Both of us had always wanted to take a ride in a hot air balloon, and this seemed like the perfect time and place to do it. Read the details on the next page.